Berkeley Housing Option
I've been talking to one of my Cal undergrad buddies and if I end up going to Haas, we're thinking about renting a place in Emeryville (thats where I use to live while I was in undergrad).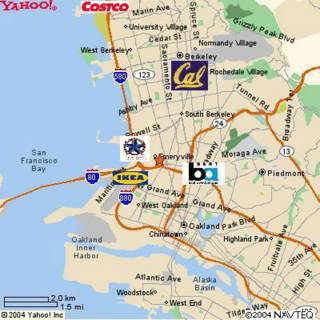 Benefits of living in Emeryville:
1)
Close to Cal
- 3 miles from campus. (15 minute bus ride.)
2)
Close to the Bart
- 1 mile from McArthur Bart Station.
3)
Lots of shopping (<1 mile)
- IKEA, Trader Joe's, Good Guys, Bay Street Mall (Banana Republic, Barnes and Noble, etc.)
4)
Entertainment and Food Court (<1 mile)
- AMC Bay Street, UA Emery Bay 10, etc.
5)
Great Location
- It has a great view of the Bay and its close to the Bay Bridge for those weekend SF getaways!
6)
Some really NICE Apartments!
Meaning - clean and reasonable-priced.
Two Options:
1) Bridgecourt

1325 40TH STREET
EMERYVILLE, CA 94608

1 Bedroom $1095 - $1500 (554-788 sqft.)
2 Bedroom $1725 - $1875 (1179-1268)
2 Bedroom Loft $2000 - $2100 (1015-1088)
There's a Pack N' Save across the street and a Taco Bell, Starbucks, CompUSA, etc. in the same Complex. This is where I lived in undergrad. We had a 2 Bedroom Loft and we squeezed 4 guys in it! Man ... good times ...
2) Emerybay Club & Apartments

6401 SHELLMOUND STREET
EMERYVILLE, CA 94608

Studio $1085 (530-635 sqft.)
1 Bedroom $1265 - $1450 (660-861)
2 Bedroom $1550 - $1925 (935-1105)
3 Bedroom $2000 - $2225 (1120-1340)
I had a couple friends live here ... this place is HUGE and the rooms are really nice and new! It's also right next to the UA Emery Bay movie theaters, Borders, and food court.
If you want to find something comparable closer to Berkeley, check out Allston Lofts on
www.rent.com
, its about $600-$800 more for a smaller place (2 Bedroom, 637-776 sq ft., $2325 - $2565).
Now if enough Haas Admits are interested in living in Emeryville, we could go and negotiate a deal with Management for some discounts or perks ... Now wouldn't it be really cool if we could create a small Haas Community right in Emeryville!?
EDIT (3): (1) Added a Map of Emeryville. (2,3) Fixed Graphics.