What you can buy for $134 million today!
To the 1,200 billionaires out there - BOY do we have a place for YOU! Remember the difficulty you had trying to find a parking spot for your 7th and 8th limousines? Or when you your 5 illegitimate kids/mistresses fought over having their own pool to swim in? And who can forget the tacky 14-Karat mosaic floor you had to bear with in your previous home! Well look no further - we have the place for you!
Updown Court, a newly built mansion for sale just outside of London, offers plenty of lavish amenities: five swimming pools, eight-limousine garage, and mosaic floor made of 24-karat gold leaf in the downstairs study.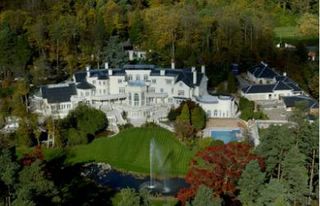 What does Updown Court have to offer the international billionaire? Start with size and opulence. The main house and two guesthouses comprise 60,000 square feet of living area. Among the 103 rooms are 22 bedrooms, each with its own marble bathroom.